About Teretre Tourist Cabins Accommodation
---
Teretre is centrally located in the Nimbin Village, a short distance away from Nimbin Rocks, Border Ranges and numerous National Parks filled with majestic forests, wildlife and waterfalls.

Teretre Accommodation Nimbin prices
We do not have in and out off-season price differences

---

One Night Accommodation for a couple
$170.00


incl. GST per night

Two Nights Accommodation for a couple
$320.00


incl. GST for two nights

Three Nights Accommodation for a couple
$400.00


incl. GST for three nights

Four Nights Accommodation for a couple

$450.00


incl. GST for four nights

Five Nights Accommodation for a couple
$500.00


incl. GST for five nights

Six Nights Accommodation for a couple
$550.00


incl. GST for six nights

Weekly Accommodation for a couple
$600.00


incl. GST per week

---

* An additional fee of $25
applies for each extra adult
$25.00


incl. GST per night per person

* Pre-Booking monthly rate at
$550.00 per week
$550.00


incl. GST per week

---

The above prices have been updated on the 28/02/2021.
All the accommodation on Teretre Cabins are subject to the Terms and Conditions herein.
We are also PET FRIENDLY to responsible owners
Wallaby Cabin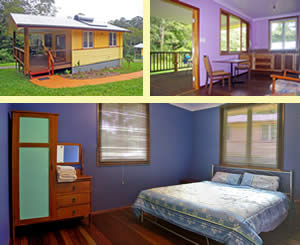 Serene and spacious, enjoy the Rainforest view from the Wallaby Cabin in this nautical lilac-blue bedroom.
It has a comfortable folding lounge, single bed and a separate bedroom. A well equipped kitchen with a good size fridge.
While having its own charm, this cabin exudes relaxation. It features a private and spacious verandah overlooking a beautiful forest setting that beckons sounds of the breeze.
Comfortable facilities make this a must to stay in. Listen to the morning birdsong and see the occasional wallaby grazing nearby.
---
Rose Apple Cabin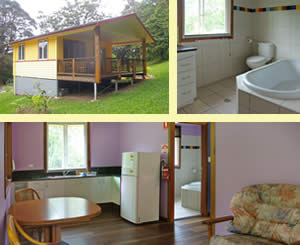 Time stands still in this cosy cabin.
A room of rustic comfort with elegant furnishing and floors that have been restored to their original beauty, creating a blend of modern and classic traditions.
Bask in the luxury of the Lotus Bud bath, the gem of our cabins.
It features a folding double bed lounge and single bed, a separate bedroom, a kitchen with all the modern conveniences. A spacious verandah overlooking your own corner of the rainforest.
Great for that weekend getaway or as a base to explore the region.
---
Lilly Pilly Cabin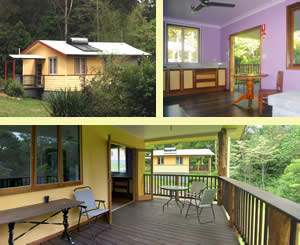 A bright cabin overlooking the rainforest setting and an extra feeling of peacefulness.
This cabin offers a lovely view of the lush forest and consists of a bedroom with adjoining room with a comfy lounge and single bed.
In addition, the self-contained cabins are well equipped with cooking utensils, crockery and linen. This cabin has features for those with special needs (ie. weelchair access).
Awaken in the morning to the sun and the lush green forest to the sound of kookaburras and animal life.
---
Kookaburra Cabin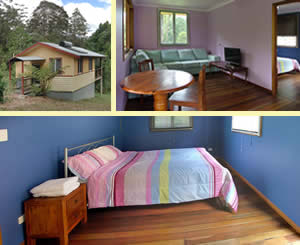 This cabin also overlooks the rainforest. Fall asleep to the gentle sound of the frogs and wake up in the morning to a view of the stunning green forest and the singing birds.
This cabin features a comfy queen sized bed, a lounge room with extra single bed and spacious verandah. A kitchen with all the utensils and crockery.
This cabin has been fitted out with special mods and cons for people with disabilities.