Weelchair access & Pet Friendly Holiday Accommodation in Nimbin
---

Teretre's unique holiday accommodation in Nimbin consist of 4 cosy one bedroom timber cabins with large private verandas and all modern conveniences; nestled on 33 acres of natural bushland with a relaxed country atmosphere whilst being within easy walking distance of Nimbin restaurants and shops.

Each cabin provides well furnished accommodation with quality bathroom and kitchen facilities opening up to a roomy forest-facing verandah. The holiday cabins were re-created from the old army barracks built in the 40s to house and train the troops. Later, they were used as temporary accommodation for thousands of new arrivals to Australia.

The old timbers used in the floors, verandahs, windows and featherboards are highlighted against the clay rendered walls and the corrugated iron with the green forest as backdrop. Numerous species of birds and wallabies are seen and heard, bringing an air of peacefulness and will be enjoyed from you own private verandah with your best friend. privacy.

---
Nimbin and its Magical Charm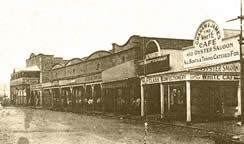 Nimbin was first settled in 1882 and was and still is a small quiet country village, until it hosted the Aquarius Music Festival in 1973.
Nimbin is part of the 'Rainbow Region' and is also culturally significant to the Bundjalung Aboriginal Australians. The Bundjalung people who originally inhabited this area are still active and vocal in the town's affairs. It is known to be a place of healing and is said to be the resting place of Warrajum, the Rainbow Serpent.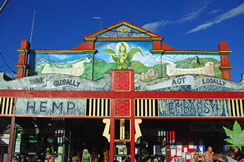 Nimbin is also known as the 'Alternative Capital of Australia'. It lies 1 hour's picturesque drive west of Byron Bay and is at the foot of the World Heritage listed Border Ranges and the Night Cap National Park.
Teretre Cabins are a perfect base for exploring this unique area or simply relaxing and unwinding.
They are centrally located to Nimbin Rocks, Border Ranges and numerous national parks filled with waterfalls and swimming holes and beautiful walks.